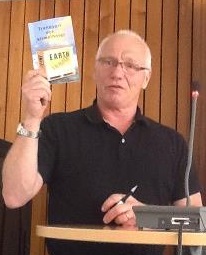 Martin Viredius from the Swedish Transport Workers' Union, writes about the work they are doing on climate change and their new booklet, on transport and the climate threat, Transport och Klimathotet.  
The Swedish Transport Workers Union has begun work on climate change as a strategically important issue. The starting point is that the climate scientists are correct in their prognosis that the earth is facing a climate catastrophe if we do not drastically reduce greenhouse gas emissions.
The ITF's position and research reports have been of help for the Swedish union to shape their work. This has resulted in a short book which provides basis for decision making for the board and also study material for trade union members.
The Swedish Transport Workers Union has based the material on the global threat that the ITF described in their position paper. National perspectives and developments in the EU have been added to this. The goal is to engage members in the climate change issue and to create a broad basis of demands on the transport industry which can both take responsibility for the climate and socially acceptable conditions for those who work in the transport industry. The Swedish Transport Workers Union has during this process had help from established researchers to ensure they get a correct picture of the climate threat and the possible solutions to the problems. Even on this point the Swedish union has followed the model developed by the ITF.

The study book was presented at a seminar on climate change in Stockholm last month. Trade union representatives, politicians and researchers discussed the various aspects of climate threat and explained amongst other things why it is so important the trade union organisations get involved in environmental issues in general and particularly the climate threat. Amongst the delegates was Alana Dave, ITF education officer.
In Sweden, the transport union is the first of all unions affiliated to the LO to get involved in the climate issue in a more systematic and strategic way. The union's board is hoping that more trade unions will get involved and that the trade union movement will be able to influence the work necessary to change with socially acceptable standards. Some of the key issues will be green development, sustainable jobs and job security during the transition.
Click here for more information (in Swedish) about the Swedish Transport Workers' Union's work on climate change.
Martin Viredius, Swedish Transport Workers Union