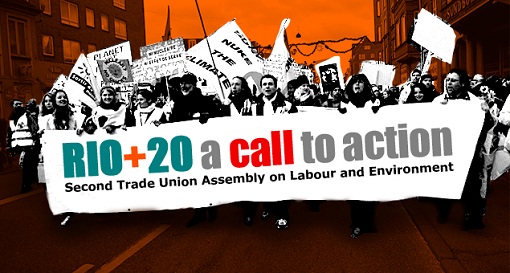 ITF delegates from Latin America, Europe and Africa attend the trade union workshop at Rio+20 yesterday. Delegates emphasised:
the need for climate change to be approached as a class issue which requires confronting vested economic interests.
the need to struggle for public ownership and control of energy as most investment is still in fossil fuels.
the need to build alliances in order to build a strong working class movement capable of addressing the economic, social and environmental crisis.
A resolution from the workshop will be submitted to the official summit that includes a specific section on climate change and energy. Click here for more details on the Rio+20 trade union assembly.
The ITUC and SustainLabour have produced an excellent short document on climate change and energy, which succinctly explains the trade union perspective, analysing the current world economic model and the inequalities between countries. They look back on the developments over the last 20 yeas since the Rio Earth Summit in 1992 and the gap between the scientific reality and the international negotiations. The document then outlines the trade union demands to our governments at an international and national level, as well as the new commitments the trade union movement has made to address climate change at all levels; in our workplaces, at sectoral, regional, national and international level.
The ITUC and SustainLabour climate change and energy document is available in English, Spanish, French and Portuguese.