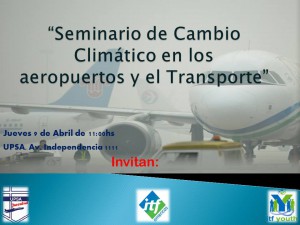 More than fifty transport workers from Argentina participated in the climate justice seminar for transport workers, which was organized by UPSA, in Buenos Aires on 9 April. This seminar is the result of the young workers network for climate justice that started at COP20 in Lima, Peru last December.
At the end of 2014, during other trade union activities organized by the International Trade Union Confederation (ITUC) and as part of the people's summit at the UN climate change talks in Lima, the ITF held a climate change seminar for young workers. One of the 12 seminar participants was from UPSA and he made a commitment to bring climate change issues to the forefront of his union's agenda.
At the beginning of 2015 he asked ITF for support to negotiate 'environmental clauses' with his company at the airport. This turned into a national seminar to raise awareness, at first with other airport workers, but then extended to all transport workers unions affiliated to the ITF.
With the presence of UPSA general secretary, Ruben Fernandez; ITF national education coordinator, Gustavo Mujica; UPSA youth secretary, Pablo Fresco and vice president for the regional youth committee, Horacio Calculli; more than 50 transport workers participated in an open seminar facilitated by ITF regional education coordinator, Emiliano Addisi. Workers gathered together to discuss issues of air quality, pollution, CO2 emissions, climate justice, energy democracy, the transport sector's role in climate change and how unions can respond to these problems.
In addition a strategic alliance was made with the Argentinean environmental and sustainable development secretary and they contributed to the seminar with leaflets and information, and with the commitment of working together with unions in negotiations for environmental clauses.
The climate justice network grows wider and together with youth participation and union leaders with vision and environmental responsibility, we will continue to bring awareness and real changes to the working environment and the whole world.
Emilano Addisi, ITF Americas regional education coordinator